A thousand eyes observe and a thousand hands reach out.
To direct living beings who are confused at the crossroads.
He vows that all sentient beings will leave suffering.
And ascend to the other shore with Maha Prajna.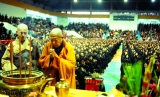 My name is Wu Peiyan. Like Dharma Master said earlier, I grew up in a Buddhist family. But even though we were technically a Buddhist family, my father had his own views and did not believe in anything. His encounter with the Venerable Master was a special affinity.
By Wu Peiyan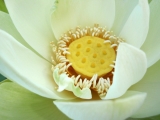 The Dharma Master's story about names today reminded me of my own stupid action many years ago. At that time, my husband met with misfortune in his career; he was in a very bad mood and felt very confused. So whatever little bit of help could restore hope in him. I had not been involved in fortune telling before this, but I went for it this time to seek answers to getting rid of the bad luck.
By Lucy Huang