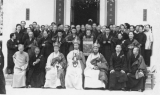 The Dharma-power of the Buddhas is tremendous, and yet the karma of living beings is equal to it. Thus living beings are said to be "weighed down by karma and confused by emotions," whereas the Buddhas "have ended their karma and emptied their emotions."
Spoken by the Venerable Master Hua in June, 1958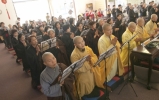 Yesterday, we established that the Shurangama Mandala is an expedient and an aid for attaining samadhi. A practitioner who cultivates within the Shurangama Mandala will attain the Great Shurangama Samadhi very quickly.
Spoken by Dharma Master Heng Yi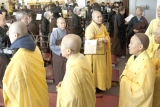 Yesterday we mentioned that for the New Year Dharma Assembly at Gold Sage Monastery, we are doing the "Repentance Dharma of the Foremost Shurangama spoken from the Crown of the Buddha's Head." This repentance ritual manual was compiled by the Bhikshuni Kuanru about a hundred years ago.
Spoken by Dharma Master Heng Yi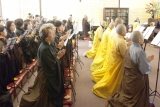 Has anyone done the Shurangama Repentance before? I found some information to share with everyone about this repentance's origin, contents, and its purpose.
Spoken by Dharma Master Heng Yi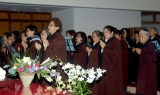 Each fascicle in Emperor Liang's Jeweled Repentance always starts with an offering. The first is the offering of incense. The reason we offer incense is in the hopes that we will not create negative karma in life after life. When we uphold the precepts, we will not suffer bad retributions in the future. This is the significance of making the offering of incense.
Spoken by Dharma Master Heng Shen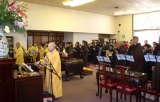 All Good Wise Advisors: this Dharma assembly came about through the presence of each person here, so we should all feel great joy. In these past seven days, everybody has been very diligent and endured a lot of difficulties, waking up early and returning home late. Here, time has passed quickly.
By DM Heng Je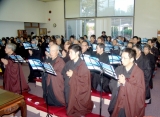 The Avatamsaka Sutra says: From beginningless kalpas ago, due to greed, anger, and delusion, I have used my body, mouth, and mind to create various kinds of negative karma. If this negative karma had a physical appearance, not even empty space could contain it. As we can see, a person's offenses can fill up all of empty space. It may be easy for us to see what we did in this life, but as for our previous lives, we know nothing about them.
Spoken by Dharma Master Heng Shen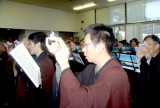 One reason we are familiar with Emperor Liang's Repentance is because of Lady Chi, empress of Emperor Wu of Liang. Reborn a python, she asked the emperor to perform prayer services for her. This is the cause of the origination of repentance ceremony that is known to many people.
Spoken by Dharma Master Heng Yi