A thousand eyes observe and a thousand hands reach out.
To direct living beings who are confused at the crossroads.
He vows that all sentient beings will leave suffering.
And ascend to the other shore with Maha Prajna.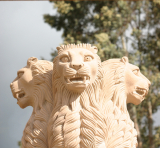 Today we want to discuss habits of animosity. This refers to someone who harbors hatred and has a lot of resentment. Let's read the sutra.
A Dharma Talk Given by DM Heng Yun in the Online Sunday Evening Lecture Series on June 6, 2021 English Translated by DM Jin Jing and DM Heng Ching
I would like to give a brief introduction to the Shurangama Sutra. The Shurangama Sutra is a sacred text that unveils heaven's secrets; it connects to the heavens and penetrates the earth. There is nothing it does not contain and nothing it does not include—from the Buddhas and Bodhisattvas down to below; everything is included and contained within the Shurangama Sutra. If you study the Shurangama Sutra, you will know from your present situation how you can return to the source to uncover your true mind until you realize Buddhahood.
A Dharma Talk Given by DM Heng Yun in the Online Sunday Evening Lecture Series on May 23, 2021 English Translated by DM Jin Jing and DM Heng Ching