Our Mentor » Words of gratitude » A Genuine Good and Wise Advisor
A Genuine Good and Wise Advisor
2013-11-20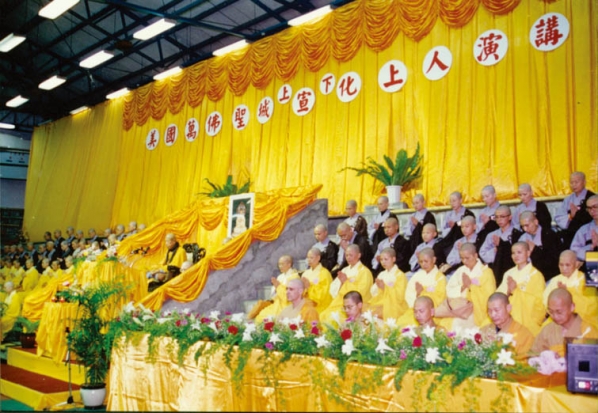 By Huali Yuan

It has been almost five years since I graduated from school and came to Gold Sage Monastery. Some of you may wonder: "Why don't work in outside society?Why don't you go to other wayplaces? Why do you enjoy coming to the Venerable Master's Wayplaces?"

Why don't I work in outside society? First it might be due to my personality. Starting from secondary school, I was hoping for a teacher who can instruct me in developing better quality, and guide me in improving virtue, however, I did not have such fortune and blessings. In addition, I was educated mostly on science, seldom on humanity. Therefore, I am truly happy to encounter Buddha dharma, since for me it is the most precious thing. After listening to the Venerable Master's teachings,I learned many fundamental and essential principles of how to be a better person, which I appreciate a lot. Therefore the initial motivation for my coming here, is to repay the kindness of Buddhas, Bodhisattvas and the Venerable Master by doing volunteer work. Another reason is due to my major, which is not easy to find a job outside. Sometimes since I don't have enough life experiences to deal with problems, I thought to myself, maybe I need work outside for some time so that I have better skills to serve the wayplace. However, the second thought is: there are already many young people working for outside companies, our wayplace also need support from young people, although my strength was insignificant, at least I can contribute what I can to help when needed.

Why didn't I go to other wayplaces? It is like someone who searched for treasury, if he already located the genuine gold, why bother searching around. I am quite sure that I already found the genuine treasury. Why? Because I found the Venerable Master and the Proper Dharma. Another reason is that I feel I don't have enough wisdom and experience to wander around outside randomly. Without Dharma-selecting Eye, it is most likely to be misled in midst of many types of pseudo-dharmas, which is very dangerous, since eradicating a bad habit of body might be easy, but getting rid of an erroneous view of mind is not easy. Another very important reason, I guess it might be due to affinities, a natural feeling of familiarity, reliability and identity with the Venerable Master and his teachings.

However, I never met the Venerable Master in person, then what's my impression about him?
What impress me most is his being so genuine, without a slightly pretentious or phony. He is where the most genuine and real locates, which you can totally trust and rely on without remainder. In front of him, there is no room for any type of phony, actually you don't need any. In order to teach his disciples not to waste food, he picked up and ate the potato skin discarded by them on the ground. From historical tapes in 1970s, I got to know that once when he was on the train, he did not buy any food for himself, but saved the money to buy food for the other dharma master, actually he donated all the money to him after they got off the train. Once a guest Dharma Master suggested to him, "the City of ten Thousand Buddhas are so big, why don't you rent some rooms so that you can make a lot of money." The Venerable Master said, "Since I would like to open CTTB to all the cultivators in the world for free." After listening to this, I could not help laughing happily, I thought to myself, "What a silly Master, but he is the one that I am willing to follow."

But is he really silly? No. He has limitless and boundless compassion, wisdom and spiritual powers. He could continuing lecture on the Flower Adornment Sutra when the light was out, he could explain the deep and profound meanings of many sutras with very simple commentary, he could use different means to teach disciples according to their different dispositions and potentials, he does not care whether you make any offerings to him or not, but he does care whether you change yourself or not, get rid of your bad temper and habit or not. What makes him happy is that you listen to his sutra lectures, study his teachings. What he regards as supreme offering to him is that you put his teaching into practice. I am really delighted to have such a good-knowing advisor, I am willing to encounter him, follow him, and learn from him life after life, I am willing to guard and cherish his teaching life after life.

The Venerable Master is a genuine good and wise advisor, I really hope I could be like him, with the same virtue, wisdom and compassion. The goal could be far and high, but the starting point is from small things. As for myself, I have a lot of bad habits, and my practice is very poor, therefore I am really shameful. However the goal is set, that not only to be happy and full of light inside myself, but also to bring all living beings bliss and light, compassion and wisdom, which are our inherent treasury. Why I said that I found the treasury? Because if we practice according to the Venerable Master's teachings, it is like using tools to exploit a treasury, the inherent treasury of our nature, which is not attained from outside. By discovering the bright treasure within our nature, we are truly honoring and remembering the Venerable Master, repaying the kindness of Buddhas, Bodhisattavas and the Venerable Master.