A thousand eyes observe and a thousand hands reach out.
To direct living beings who are confused at the crossroads.
He vows that all sentient beings will leave suffering.
And ascend to the other shore with Maha Prajna.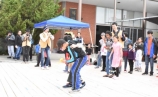 March 26, 2017 is the Cherishing Youth Day in Gold Sage Monastery. CYD is supposed to be easy since we held this event every year. It is not true: the activities to server two or three hundred people has never been an easy thing. It was my honor to participate in the preparation of programs, and I found this is not an easy task.
By: Bin Peng
Translated by: Huali Yuan