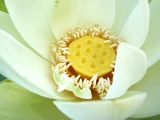 I would like to reflect some of my experiences during this year's Emperor Liang Repentance.
By Grace Jeng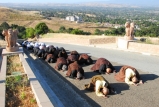 Last month was the first time that I ever received the transmission of the Eightfold Precepts and the Precepts for the Deceased on behalf of my grandfather, and participated in the week-long Jeweled Repentance of Emperor Liang. From what I had heard about the Dharma Assembly, I knew it would be a wonderful and profound experience, but I never expected that I would cry so much during the ceremonies. In fact, I was wondering why the Dharma Masters didn't tell us to bring some tissues!
By Laura Lin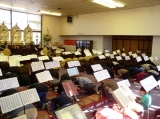 Over the last few years I have prayed at the Emperor Liang Jeweled Repentance Ceremony, and this year I was asked to share how praying at this ceremony has affected me. With this, I will share with you the story of my back.
On November of 2005 I got into a terrible car accident. My car flipped over twice on the freeway. The car roof caved centimeters away from my head. My car was in ruins, and I merely escaped death. I was lucky to walk away from that accident with merely a scratch on my left elbow. During that week, I learned that my mother was here at Gold Sage Monastery praying in the Emperor Liang Jeweled Repentance Ceremony.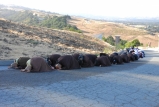 Today is the last day of Emperor Liang's Jeweled Repentance session. How does everybody feel? Are you very happy as if you had finally completed a big project, or do you feel so intrigued that you wish the bowing session could continue on for a few more days?
I personally enjoy bowing Emperor Liang's Jeweled Repentance a lot, because it is a quite complete dharma door of repentance, moreover, from this repentance, I learned that our mind can be so encompassing that it extends to the end of empty space and pervades the Dharma Realm. In the early days when I first started to bow this repentance,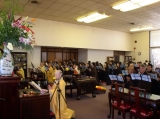 Today is the first day of the lunar New Year, I wish everyone a joyful and peaceful new year! I am very happy that many of you come to Gold Sage Monastery to do the bowing repentance. The response of being mindful of the Buddha and bowing repentance is inconceivable, and today I would like to share my personal experience with you.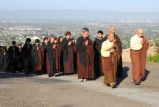 My dharma name is Chen Guo Pu, I want to extend my gratitude for all dharma protectors who've made this bowing session possible. There is a true story about dharma protectors at the City of Ten Thousand Buddhas.
There were seven Vietnamese laypeople who worked hard for the JunKang Restaurant remodeling job. They even worked late into the night until 2:00 am when the restaurant was about to reopen. They were all exhausted when all the remodeling work was done.