A thousand eyes observe and a thousand hands reach out.
To direct living beings who are confused at the crossroads.
He vows that all sentient beings will leave suffering.
And ascend to the other shore with Maha Prajna.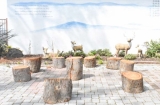 It is still the period of the Spring Festival and the Lunar New Year, so we would like to first wish everyone a happy Lunar New Year and peace and auspicity in the coming year. Everyone has delightfully come to Gold Sage Monastery to cultivate together. As the saying goes, "The best time of the year is spring, when the plants grow and flourish," springtime represents a new beginning for all life and is a most idyllic season filled with vitality.
Dharma Talk by Dharma Master Jin Thai