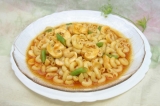 The Venerable Master said:
As people who are studying Buddhism, we must first refrain from getting angry and second, refrain from killing.
-- Venerable Master Hsuan Hua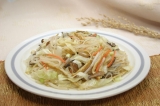 When the five Mongol tribes invaded northern China, the Han people migrated to Southern Minnan, Zhejiang, and Kiangxi, where they made rice into strips which are now called rice noodles. At that time, rice noodles were seen as a delicacy, and were only served for honored guests or during times of celebration.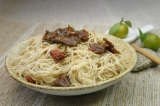 Since the North-and-South Dynasty, angelica has been seen as a treasured herb that revives and facilitates blood production. Angelica can improve the biological functions, balance irregularities in menstruation, alleviate pain, improve skin complexion, strengthen muscle, and increase overall health. Scientific research has shown that angelica can increase coronary artery blood flow, decrease energy expenditure, and thus improve heart function. Angelica also has tranquilizing, analgesic, and anti-inflammatory effects.