A thousand eyes observe and a thousand hands reach out.
To direct living beings who are confused at the crossroads.
He vows that all sentient beings will leave suffering.
And ascend to the other shore with Maha Prajna.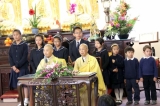 The Venerable Master set up the Cherishing Youth Day in order for everyone to work together to care about the younger generation.
By : Bin Peng