A thousand eyes observe and a thousand hands reach out.
To direct living beings who are confused at the crossroads.
He vows that all sentient beings will leave suffering.
And ascend to the other shore with Maha Prajna.
我不需要殺生,或要別人殺生,另一個生命便是我最大的支柱。
——克理斯.坎伯(Chris Campbell),美國奧林匹克獎得主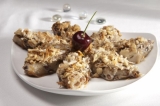 When I was a child I vowed never to eat meat again, because one day, we will
view killing animals as equivalent to killing human beings. —Leonardo Da Vinci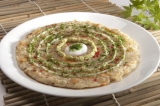 Question: Should we avoid using leather products such as purses and shoes, since they are a form of indirectly killing animals?
Venerable Master: Yes.